Statistics from Gov.uk show that women account for 52.7% of the total UK workforce, yet they only hold 26% of jobs in the technology industry. Additionally a recent PwC study indicated that only 3% of women say a career in technology is their first choice and only 16% of them have had a career in technology suggested to them. These statistics are shocking yet unsurprising when you hear that, 76% of the respondents to a 2023 Women IN Tech UK survey said that they have experienced gender bias or discrimination whilst working in technology at least once, and 79% agreed that there is a gender pay gap in the technology sector, with men earning a higher salary.
In honour of International Women's Day 2023 and the UN Woman's theme of DigitALL: Innovation and technology for gender equality, we wanted to speak to some of the women here at Engine B and ask them about their experiences as women working in tech. This three-part series will explore some of the challenges women in tech face, ways in which we can strive to make change, as well as advice for other women considering careers in the technology industry.
Claire Lees, Programme Delivery Manager
How do you think men can be better allies to women in the workplace
I think that men could be better allies to women in the workplace by offering coaching and mentorship, including offering advice and time, sharing opportunities, and helping women take on a more active role on high-profile projects and in management opportunities.
Before Engine B you worked as a project manager in the Civil Infrastructure Industry, and now in tech, both traditionally male dominated fields. What advice do you have for women pursuing careers in typically male dominated industries?   
My main advice to other women pursuing a career in traditionally male dominated industries would be:
Do not let the fact that you are pursuing a career in a male dominated industry be an obstacle in pursuing your dream career.
Knowledge is power especially in a male dominated industry and so remember that the reason you have your job is because you have the education, skillset, and knowledge, regardless of your gender, to succeed.
It can be challenging as a woman to speak up in a room full of men, especially if you are challenging their ideas or decisions, however my advice is to never be scared to voice your opinion, you're there to be heard.
Can you talk about a woman who has inspired you at some point in your career? How was she influential for you, and what did she help you to achieve? 
I had the privilege of working with a Senior Project Manager, Penny Griffin who was a professional inspiration to me because she was a Subject Matter Expert in the Industry and advocate for equality in the workplace and offered to be my mentor. Penny was influential to me because she could captivate and engage an audience in a male dominated environment which emphasised to me that, regardless of gender, if you have the knowledge and skills within your industry, gender is not a factor and will not prevent you from succeeding and progressing in senior roles. Penny helped understand that women have a different perspective of the world than men, so by having the ability to speak your truth in meetings and challenge decisions and ideas, you'll be respected by your peers, and they will value and welcome future challenges.
Emma Gray, Digital and Content Intern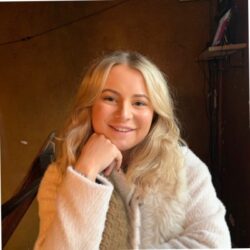 International Women's Day was first marked in 1911 – over 110 years ago. Why do you think the day is still relevant?
I personally look forward to the day when gender equality is such that it is not necessary to dedicate one day to women, unfortunately we're not there yet. Yes, there have been many positive changes for women in lots of countries since 1911, however there are still lots of examples of how women are not yet treated as equal. For example, the gender pay gap is still a major issue, and even greater for women of colour. It would be ignorant to think that the positive changes that have been made benefit all of us equally. There are still millions of women around the world who have far fewer rights and opportunities than we do in the UK. For example, around the world 129 million girls are out of school, and despite data showing 1 in 3 women worldwide have experience physical or sexual violence at least once, there are still 46 countries where women do not have any legal protection against domestic abuse. IWD is a good reminder for women and men around the world that we must fight to change this. IWD is also relevant as it's a chance to look back on the women who got us here, who campaigned and fought for us to have the rights that we have now and to remind ourselves that we, both men and women, must continue their efforts.
What are the most effective ways to counteract the negative stereotypes of feminism, especially in the workplace? 
Sadly, the word "feminism" is sometimes perceived as a controversial one, but I believe this is down to a key misunderstanding of what the word actually means. Feminism is the equality and equity of both men and women. That doesn't mean we want to put women above men, but that we want balance. Feminism doesn't even just apply to women, if you are a person who believes in equality of any kind then you believe in feminism. I think the best way to counteract the negative stereotypes would be to remind people of this, and the overall aim of it, which really is far more important than any label anyway. We all reap the benefits from an equal society, both men and women!
Which women inspire you the most? 
I feel most inspired by women I know, and I'm very lucky to have been surrounded by strong, independent women my whole life! Despite wanting to continue working, my grandmother (along with many women in Ireland up until the 1970s) was forced to give up her job when she got married due to The Marriage Bar in Ireland, so instead she put all her efforts into being a mother. She was very successful, and as a result raised five very strong, determined women who I've always been able to look up to and learn from, one of which is my wonderful mum who has always inspired me. Additionally, I'm constantly inspired by my fabulous friends who are great examples of women supporting women, and of course all of the brilliant, intelligent women that work here at Engine B, who continue to teach me so much!
‍