Meet Data Scientist, Ioannis Efstathiou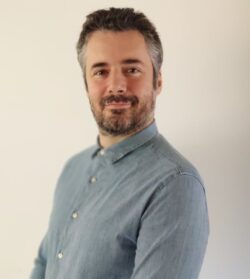 As part of our 'Behind the scenes' insights, we talk to our Data Scientist,
Ioannis Efstathiou
, about his passion for Artificial Intelligence and role at Engine B.
What led you to becoming a Data Scientist?
A driving force for me has been my passion for Artificial Intelligence (AI) and in particular, creating software that can learn to perform certain tasks on its own (Machine Learning). I also grew up watching a lot of Japanese animations and this had a huge impact on my love for science!
What do you like best about working at Engine B?
Engine B's vision is clear and the goal ground-breaking: shaping the future of professional services using state-of-the-art
Graph AI
. My role is both challenging and rewarding and I really enjoy working with a team of professionals who are eager to help and transfer knowledge. We have excellent, in-depth discussions, and a constant sharing of ideas. Oh and not forgetting the very entertaining social events we have on a regular basis!
What does a typical day at Engine B look like? (If there is one!)
Every day at Engine B offers new, exciting challenges and it seems there are always opportunities to get involved in new tasks and discover new technologies. At Engine B, we work with people from both Academia (
Imperial College London
,
Birmingham University
and
Oxford Brookes
) and Industry bringing forth the best of these two worlds.
What impact are you hoping Engine B will have?
Our industry Common Data Models (CDM) and Knowledge Graphs (KG) are transforming the professional services sector and fundamentally, making the lives of professionals everywhere, easier through unlocking access to client data, enabling better analysis of risks and improving decision-making. For the audit industry, our data solutions aim to improve the efficiency of audit processes and audit quality and I believe we are currently an important cog in resetting expectations around the use of digital technology as an enabler for achieving these improved standards.
Do you have any advice for budding data scientists?
There is so much potential in Knowledge Graphs and Graph algorithms and I think it's an area of great interest. My advice would be to learn as much as you can about these technologies as they will increasingly become a fundamental part of any technology stack. We have only just scratched the surface in terms of what can be achieving using Knowledge Graph technology so I'd say this is an area to pay attention to!
‍